Barnett Crossbows Hypertac Pro 430 FPS Crossbow Package with Soft Case Bundle

VISIT OUR EBAY STORE
Barnett Crossbows Hypertac Pro 430 FPS Crossbow Package with Soft Case Bundle
Brand New in Original Packaging
SKU: ABAR78165-K1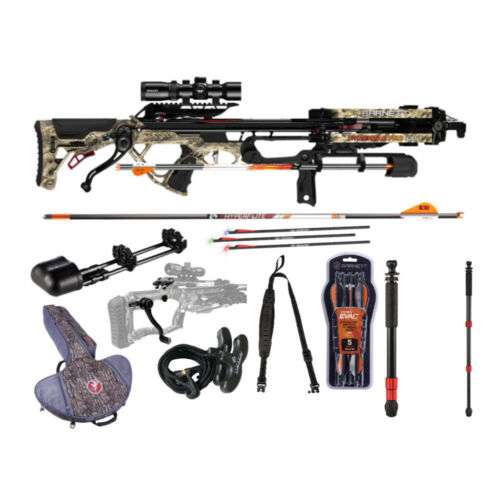 Barnett Crossbows Hypertac Pro 430 FPS Crossbow Package
Barnett Crossbows Hyper Evac Crossbow Deactivation Bolts (5-Pack)
Barnett Crossbows 22-Inch Hyperflite Arrow (3-Pack)
Barnett Crossbows TruBark Crossbow Soft Case
Barnett Crossbows The Sling Cross Xbow (Black)
Barnett Crossbows Sureshot Monopod
Barnett Crossbows Hypertac Pro 430 FPS Crossbow
3 x 22-Inch Hyperflite Arrows
Premium 1.5-5×32 Illuminated, Speed Compensating Scope
Integrated Crank Cocking Device
Premium Side-Mount Quiver
Lubrication
Barnett Crossbows TruBark Crossbow Soft Case
Barnett Crossbows 22-Inch Hyperflite Arrow (3-Pack)
Barnett Crossbows Sureshot Monopod
Barnett Crossbows The Sling Cross Xbow (Black)
Barnett Crossbows Hyper Evac Crossbow Deactivation Bolts (5-Pack)

The smoothest, fastest, easiest shooting experience can only mean one thing: bigger hits on bigger bucks. The HyperTac Pro 430 is loaded with features, including a newly patented string hook system you won't find anywhere else. Paired with the quick-detach integrated CCD, the HyperTac Pro guarantees a worry-free cocking experience to get you to your shot faster. The hunting crossbow also has comfort on its side, with every touchpoint completely customizable: use the flip-down Verti-Grip to shoot, and set the perfect length-of-pull fit with a micro-adjustable butt stock and cheek piece.
Advanced Features
The traditional frontend and narrow backend give the HyperTac Pro an incredibly balanced weight center for peak maneuverability. Hyperflite technology pummels small diameter arrows down range with incredible speed and precision – up to 430 feet per second and 25 percent deeper penetration than the competition. The 1.5-5x32mm red/green illuminated, speed-compensating scope, pre-installed string dampeners and multi-position premium quiver complete the package for the ultimate shooting experience. Best of all, the HyperTac Pro comes fully assembled and ready-to-hunt straight out of the box. This crossbow has everything going for it, so gear up for the best deer season of your life.
Generates speeds of 430 FPS
HyperFlite .204 small diameter arrow compatibility
TriggerTech 3lb zero creep frictionless release technology
Patented integrated string hook system
Micro-adjustable length-of-pull butt stock and cheek piece
Pass-through forend with articulating verti-grip palm rest
Anti-dry fire (ADF) trigger system
Integrated crank cocking device with push-button handle release
1.5-5x32mm illuminated, speed compensating scope
Metal Injection Molded (MIM) trigger
Barnett Crossbows Hypertac Pro 430 FPS Crossbow
Three 22-Inch Hyperflite Arrows
Premium 1.5-5×32 Illuminated, Speed Compensating Scope
Integrated Crank Cocking Device
Premium Side-Mount Quiver
Lubrication

The Barnett Crossbows Hyper Evac Crossbow Deactivation Bolts ensure a safe and controlled crossbow deactivation. They also glow in the dark for correct fletch and nock track alignment. The Hyper Evac arrows are for use with All Hyper Crossbow Series and feature a unique impact-breaking system.
Ensures a safe and controlled crossbow deactivation
Glows in the dark for correct fletch
Nock track alignment
For use with All Hyper Crossbow Series
Features a unique impact-breaking system
Barnett Crossbows Hyper Evac Crossbow Deactivation Bolts (5-Pack)
Limited 1-Year Warranty

If you thought crossbows could only shoot standard diameters – think again. Introducing the HyperFlite arrow: Barnett's revolutionary small diameter arrow designed specifically for use with Hyper series crossbows. The power and speed of a crossbow combined with the precision and penetration of a .204-inch arrow deliver hits unlike anything you've ever seen. All that plus a .001-inch straightness make the HyperFlite just about as close to perfect as you can get.
Designed for use with Barnett's Hyper crossbows
Small diameter for greater penetration
Length: 22 inches
Straightness: .001 inch
Inner Diameter: .204 inch
3 x Barnett Crossbows 22-Inch Hyperflite Arrow

Ward off bumps, bruises, dust and dew. This TruBark soft-sided case wraps your crossbow in padded protection to weather every journey. The soft crossbow case also takes care of you, with padded straps and multiple carry options to distribute the weight of your crossbow for ultimate comfort. Fits most crossbows sizes and styles and offers additional storage in multiple zippered accessory pockets.
Fits most crossbows
TRUBark camo
Hand carry with dual handles or shoulder strap
Backpack carry with adjustable straps and chest compression
Versatile accessory storage pockets
Padded for safe transport
Barnett Crossbows TruBark Crossbow Soft Case

The Barnett Crossbows The Sling Cross Xbow offers a firm and steady grip. Made to fit any crossbow, it is adjustable from 32 to 40 inches and can be released quickly and quietly without any tools.
Archery crossbows slings
Versatile top of the line
Extreme grip
Adjustable from 32 to 40 inch
Universal attachment
Barnett Crossbows The Sling Cross Xbow (Black)
Limited 5-Year Warranty

This ultra-compact monopod was designed specifically for Barnett crossbow models with VertiGrip palm rests. Integrating directly into the fold-down vertical grip with a ball socket attachment method, the shooting stick anchors your shot while giving plenty of maneuverability. From the standing position, rotate the monopod back toward the shooter to eliminate front-end weight and get a rock-solid rest in an above lock-on stand.
Increase stability for greater accuracy
Great for tree stands and ground blinds
Makes crossbows easier to shoot
Comfortably shoot from sitting, kneeling, or prone positions
Vertical grip moves hand safely away from crossbow rail
Lightweight telescopic design stores easily in a pack
Collapsed length 12-inch
Fully extended length 26-inch
Barnett Crossbows Sureshot Monopod
Shipping for this Auction is FREE in the Continental US Lower 48 states only. Shipping Fees include all Handling & Insurance.
Domestic Shipping to lower 48:All Shipping Prices Include Shipping Handling and Insurance
Domestic Shipping to Alaska, Hawaii, Puerto Rico and US Territories:The free shipping is for the lower 48 only.
Shipping to APO/FPO's: In order to get a quote please e-mail us with your APO/FPO zip code first. We will respond with the shipping cost. Please note there are some locations we will NOT be able to ship to. The free shipping is for lower 48 only
International Shipping: Paypal is our only accepted from of payment . Shipping charges only cover the cost of shipping and insurance. HotDigital is not responsible for any customs/duty/tax/brokerage fees that may be incurred. These are the sole responsibility of the buyer. As these fees are assessed by each country we are unable to quote a price for or control them. We can only ship to addresses which are Confirmed or Verified through PayPal. We cannot declare items at a lesser value or as "gifts."
Hotels: We DO NOT Ship to Hotels.
Express Shipping: Express Shipping is for the lower 48 states only. There is no express shipping available for Alaska, Hawaii, Puerto Rico, U.S. Territories and International orders.
Paypal: PayPal is our preferred method of payment for all of our eBay sales. For customer service please contact us through eBay Messages
Immediate payment via PayPal is required for all Buy It Now items. For all Best Offers, payment is required within 3 days. If you need special arrangements, please contact us through eBay messages. After your order has been shipped, you will receive an e-mail with the name of the carrier and the tracking number.
Returns are permitted if you are not satisfied with your purchase and must be initiated by the buyer within 30 days from delivery date.
For Domestic Purchases:
If you are not satisfied with your purchase, you may return it (see exceptions in Paragraph F below), within 30 days of receipt, for a refund or replacement – subject to the following:
a) Contact us through eBay messages or the returns link to receive a Returned Merchandise Authorization (RMA) number to ensure proper handling of the return and/or replacement.
b) In order to be eligible for a full refund, less shipping expenses, your returned merchandise must be in its original new condition, as shipped, with all packaging, manuals, and paperwork intact and unaltered. Items which have been opened are returnable, however they will carry a restocking fee.
c) Customers remain responsible for the shipping and handling expenses incurred in shipping the item to them. If an item is offered with "Free Shipping," this means we are paying the freight on your behalf. If that product is returned for a refund, the shipping expenses incurred, will be deducted from the refund. If an item is refused, the carrier bills us for shipping both ways, and these expenses incurred on your behalf need to be deducted from your refund
d) All returns are subject to inspection. Products returned must be in brand new condition, as per Paragraph b), if not, it may be deemed non-refundable or will be subject to at least a 15% restocking fee. If your return is missing accessory components, or shows signs of wear – restocking fees will be higher. For specific restocking fees that may be applicable to your return, please contact us through eBay messages.
e) Returns should be packed in an outer shipping carton, not just the original box/packing of the product. The RMA# should be clearly inscribed on the shipping label. A copy of your invoice and Order # should be included, and your return should be insured, with shipping costs pre-paid. We cannot accept any COD shipments.
f) There are product categories which are not returnable due to hygienic or sanitary as required by manufacturers. If your items is a consumable good or is has been locked by a manufacturer such as Apple or HP the return will not be accepted
For Warranty information, merchandise lost / any other issues in transit, or order cancellations, please contact us through eBay Messages. In an event where there is an error regarding a price error or description, we will notify you ASAP. In this event there will be no obligation to proceed with the purchase. Any amount charged to the customer will be 100% refunded.
For International Purchases:
Returns will be accepted within 30 days of the receipt of the item. In order to be eligible for a refund your returned merchandise must be in its original unopened condition, as shipped, with all packaging, manuals, and paperwork intact and unaltered. Items removed from their 'blister-pack' display packaging are non-refundable.
International Buyers must pay return shipping via the same method originally shipped.