Description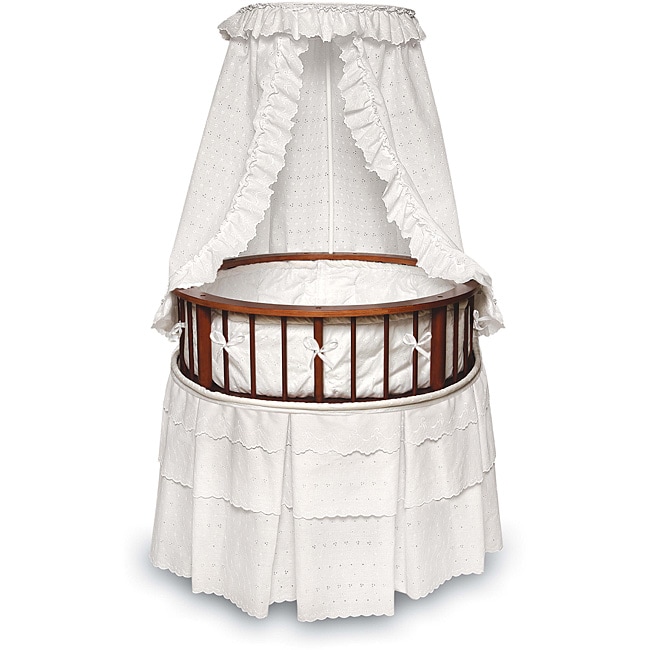 Cherry Elegance Round Bassinet with Eyelet Bedding
Product Description:
Elegance Bassinet is probably the most charming and unique place to your newborn to sleep
Rich cherry finish is stylish to your home
Crisp White Eyelet bedding set features a lovely three-tier skirt, soft bumper, fitted sheet and drape canopy
Storage shelf beneath the bassinet creates a storage area for toys, feeding and changing necessities
Bassinet also includes caster wheels
Graceful canopy shades the interior to keep out harsh light whilst baby is snoozing
Canopy is height adjustable
Bumper attaches with grip tape and ribbon ties
Includes a custom fitted, vinyl covered foam mattress pad
Bedding set is polyester and cotton
Bumper is polyester filled
Mattress is approximately 1 inch thick to comply with current safety standards
JPMA certified
Unit measures 32 inches long x 32 inches wide x 49 inches high
Measures 31 inches from the rim of the bassinet to the floor
Interior measures 29.5 inches in diameter and is 8.5 inches deep
Bassinet is to be used as much as 20 lbs. (9.09 kg), 3-4 months, or until Baby can push up, roll over, or take a seat unassisted – whichever age, weight, or activity limit comes first
Illustrated instructions included and assembles with a screwdriver
Assemble this bassinet within the room where you wish to use it unless your doorways are wider than 32 inches wide
Note
*All retailers not collecting sales tax from purchasers in Colorado, Kentucky, Louisiana, Oklahoma, Rhode Island, South Dakota, Vermont, and Washington are required to offer the next notice: Despite the fact that we, as the seller, aren't obligated to collect sales tax to your state, this purchase is subject to sales tax unless it's specifically exempt from taxation. This purchase in not exempt merely because it's made over the web or by other remote means. Your state requires that you file a tax return on the end of the year reporting your entire purchases that weren't taxed and pay tax on those purchases. Retailers that don't collect Colorado, Louisiana, Oklahoma, Rhode Island, Vermont, or Washington sales tax, including ourselves, will provide you an end-of-year summary of your purchases to help you in filing that report. You may also contact your state's Department of Revenue for details on learn how to file this return. For purchasers in Colorado, Louisiana, Vermont, and Washington please note that we are required by law to offer your state with a report of the total amount of all of your purchases from us on the end of the year.