Description
CURRENT USA ORBIT MARINE PRO LED 24 TO 36″ INCH – SALTWATER AQUARIUM REEF LIGHT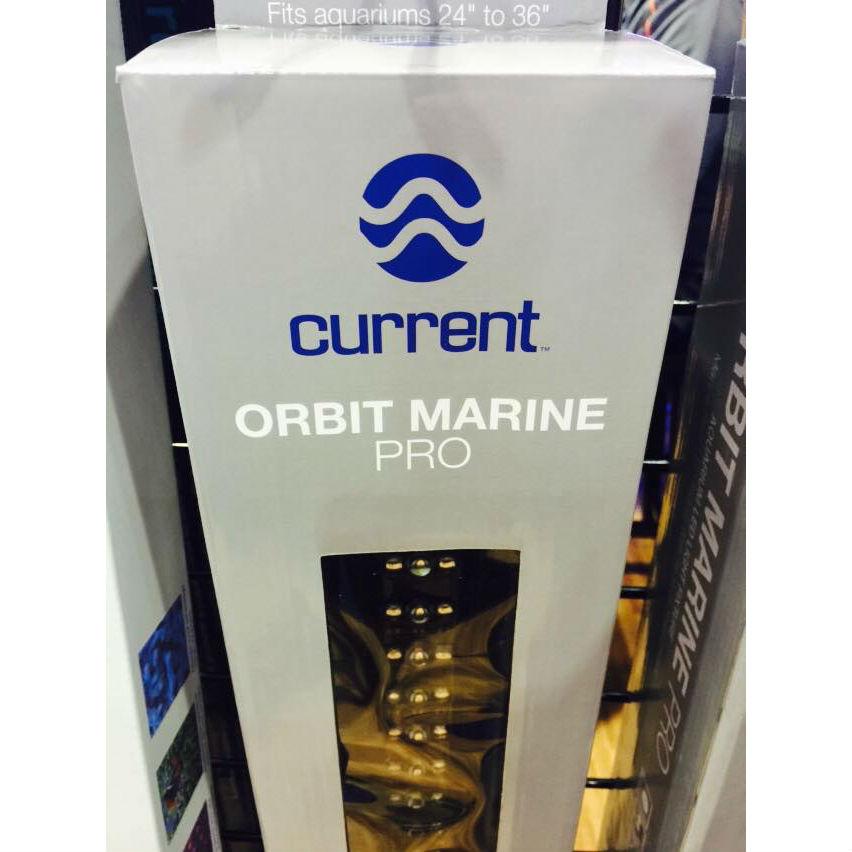 Click to Enlarge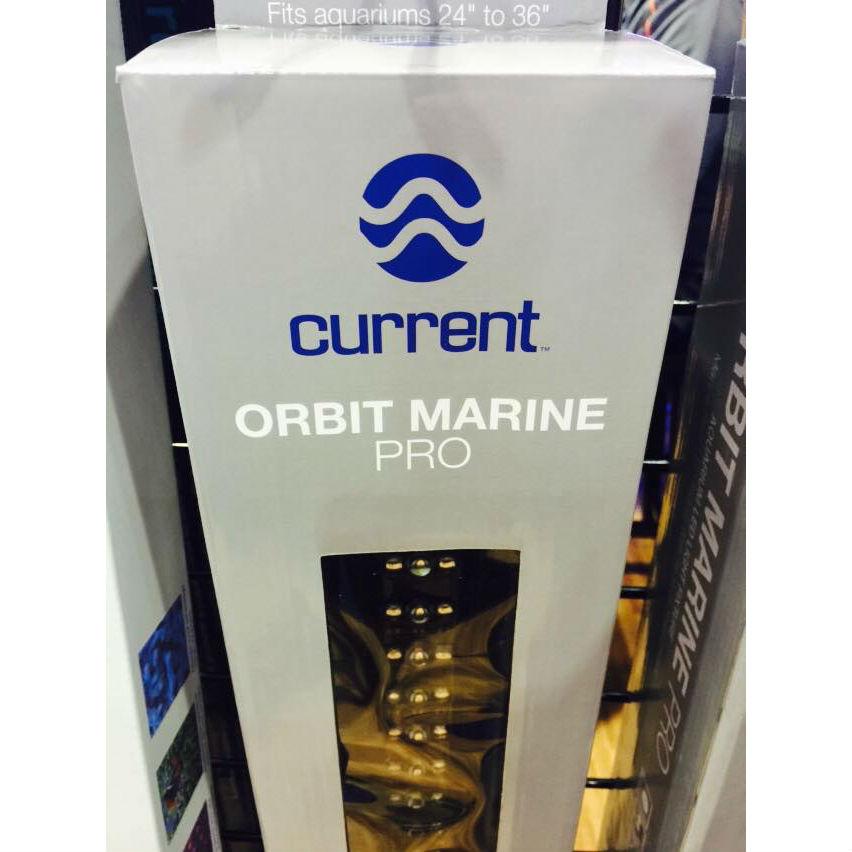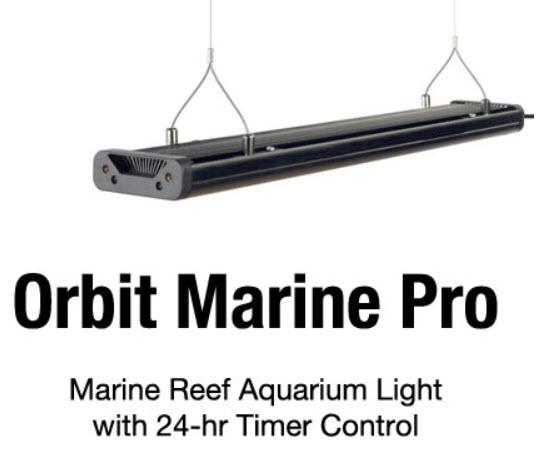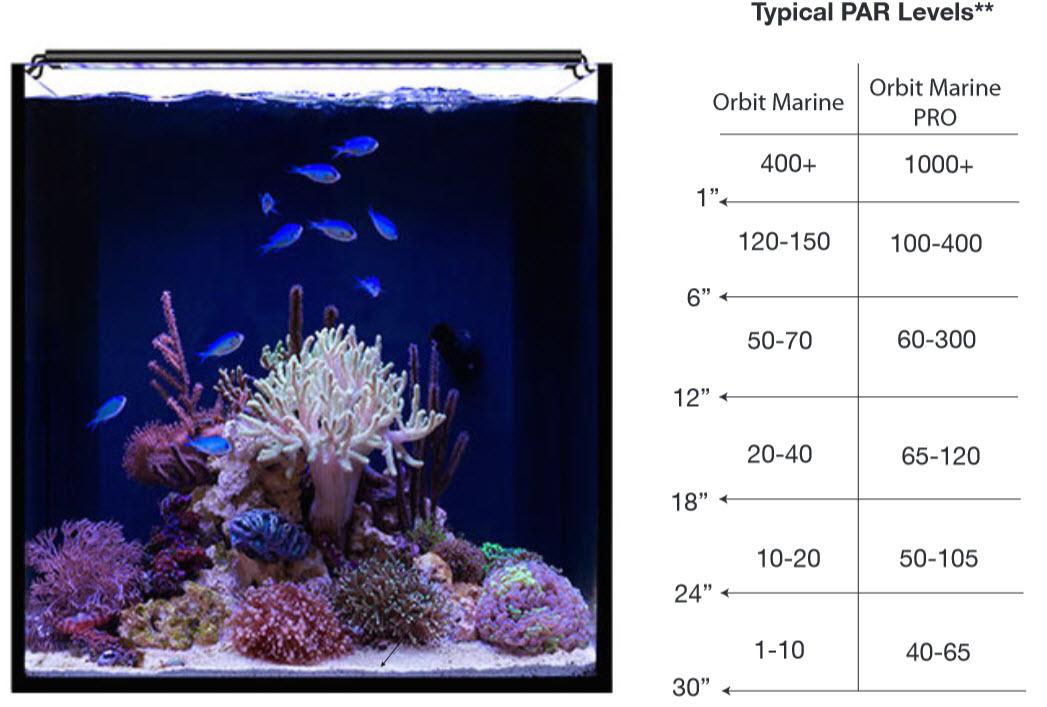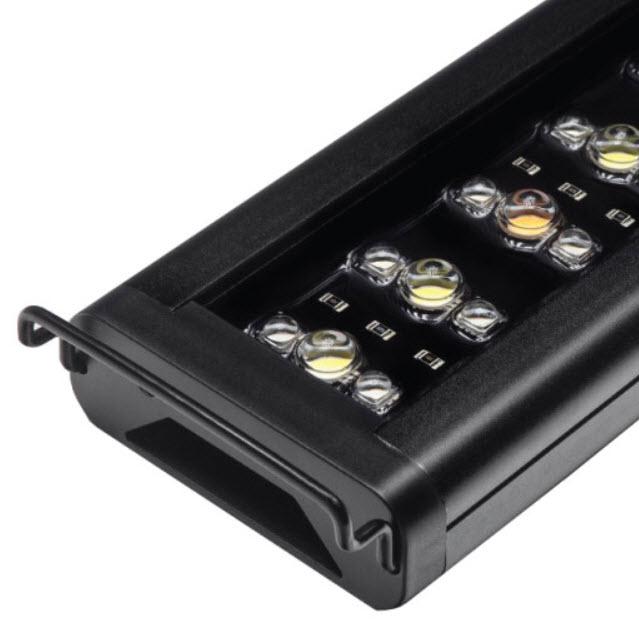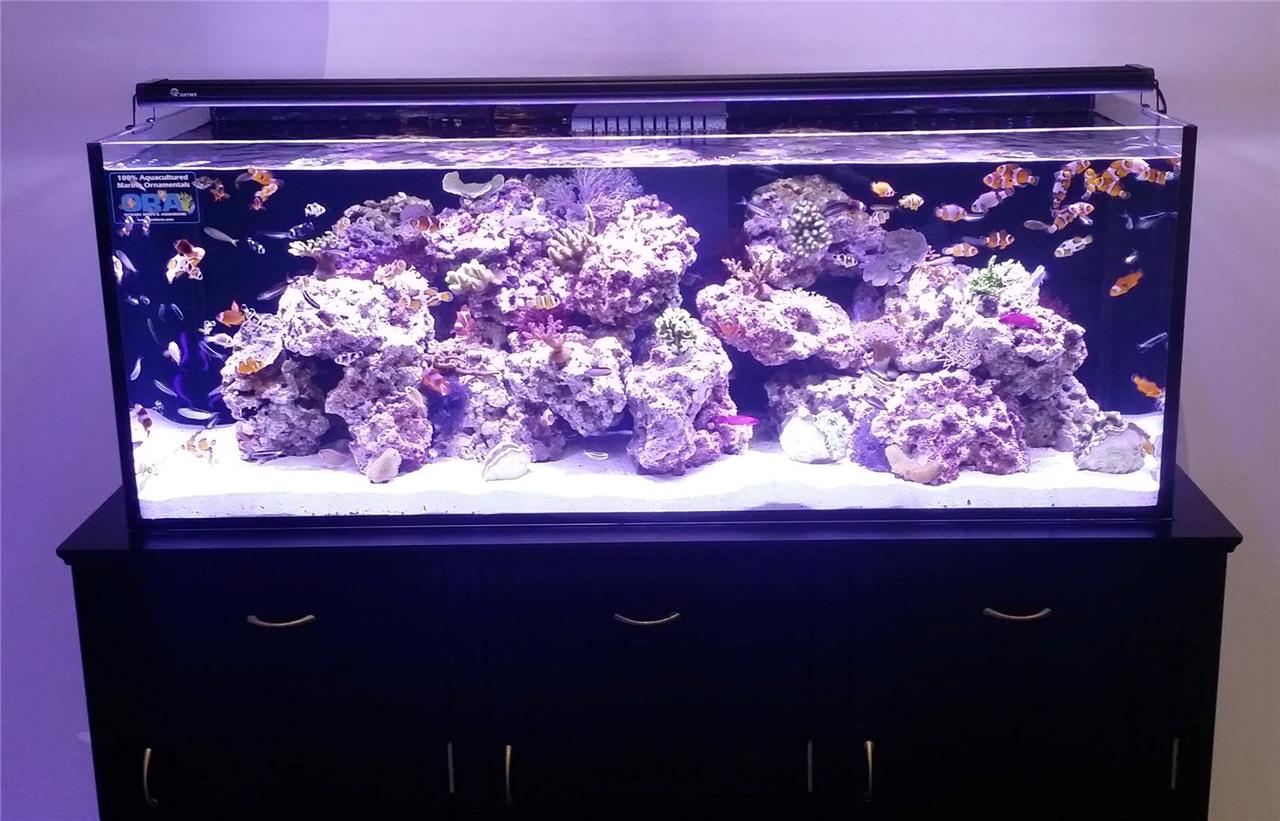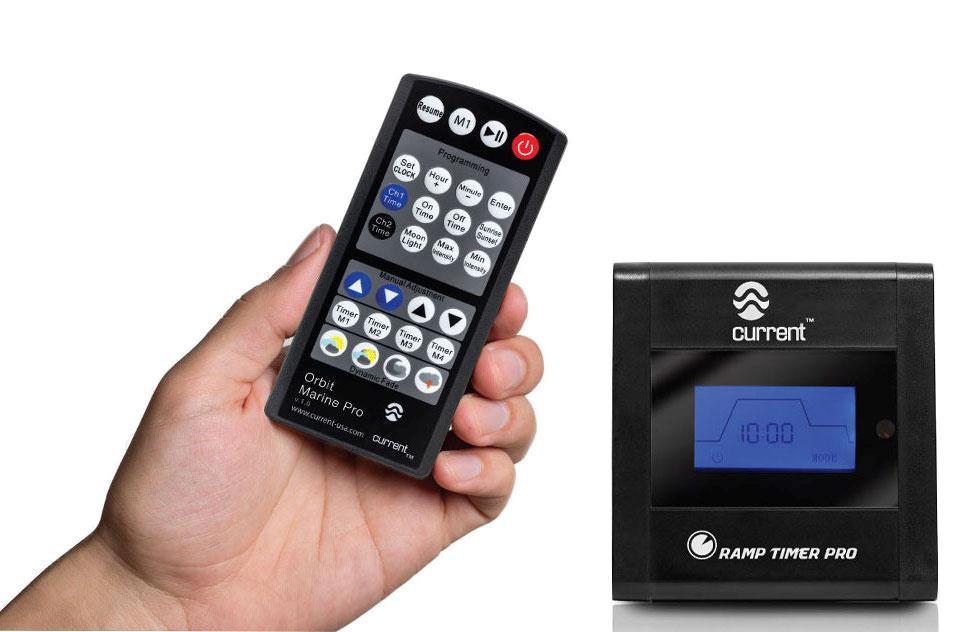 The brightness of the Orbit Marine PRO is also the very first thing you notice, but what you experience is so a lot more! With innovative features that deliver improbable color rendition and stunning shimmer, this is the coolest light Current USA has ever made. This is the NEW SECOND GENERATION ORBIT MARINE PRO. HIGH PAR FOR SPS, CLAMS, LPS CORALS.
More Light, More Color, More Vivid.
To get the greatest colors and growth out of your corals, we incorporated a wider spectrum of high powered SMD LED chips. Specifically designed for live coral reef tanks, the Orbit Marine PRO provides the PAR, light spectrum and necessary wavelengths for strong growth and brilliant color in SPS, LPS, CORALS & CLAMS. Combined with our new dome optics it spreads light more evenly all through all of your aquarium, ensuring your substrate doesn't look like a disco floor!
Ramp Timer Pro LED Controller
• Programmable 24 hour off and on time
• Adjustable daylight and moonlight color and intensity
• Automatically simulates sunrise, sunset and moonlight
• Four dynamic effects and presets including cloud cover, fading lunar and storm with lightning
• Four memory locations for custom time schedules and coral acclimation
• Wireless IR remote and new controller mounting system
What's Included?
Each Orbit Marine PRO system includes an LED light fixture, adjustable docking legs (pre-installed) 24VDC UL approved transformer, Ramp Timer Pro LED controller with IR remote, controller mounting bracket and complete instructions. Adjustable docking mounts fit aquariums from 18″ to 72″ in length. Fixtures measure 3.3″W x 1″H and are IP65 rated for water resistance. Transformer is UL, cUL and CE approved, fixture is ETL pending.
| Model | Description | Watts | # Royal Blue | # Deep Blue | # Ultraviolet | # Cool White | # Warm White | # Magenta | Total LEDs |
| --- | --- | --- | --- | --- | --- | --- | --- | --- | --- |
| 4110 | 18″ – 24″ Orbit Marine Pro | 21 | 12 | 12 | 4 | 6 | 6 | 2 | 42 |
| 4111 | 24″ – 36″ Orbit Marine Pro | 36 | 16 | 16 | 8 | 8 | 8 | 4 | 60 |
| 4112 | 36″ – 48″ Orbit Marine Pro | 52 | 24 | 24 | 12 | 12 | 10 | 6 | 90 |
| 4113 | 48″ – 60″ Orbit Marine Pro | 67 | 32 | 32 | 16 | 16 | 16 | 8 | 120 |
| 4114 | 72″ Orbit Marine Pro | 100 | 48 | 48 | 24 | 24 | 20 | 12 | 176 |
Returns
We learned early on that going that extra inch can help your business tremendously. Buyer Satisfaction is #1.
All domestic US returns accepted.
Buyer will have to contact us within 14 Days after receiving the item.
Refund given as Money Back or Credit depending on the item.
Return shipping will be paid by your buyer.
Additional return policy details: The buyer has 7 days to go back the item (the buyer pays shipping fees). The item will be refunded minus a 15% restocking fee and all shipping costs.
Shipping
Aquarium Supplies (Dry Goods) Shipping
To reduce shipping costs, all aquarium supplies are shipped UPS, Fedex & USPS. Orders can ship from a couple of warehouses all through the country. We attempt to keep inventory local to you to keep shipping times and expense low. Our primary warehouses are in PA, TN and AZ. Most orders submitted by 2pm EST (Monday-Friday) are shipped same day. Orders Friday and over the weekend after 2pm EST will ship Monday unless it's an item that ships our of a 24/7 warehouse. Aquarium supplies orders that are shipped UPS will be delivered Monday through Friday. USPS or FedEx will be delivered Monday through Saturday. We deliver pretty much anywhere in the domestic 48 within three to five business days but this isn't guaranteed and depends on your zip-code.
International Shipping
We DO offer international shipping on some items. Shipping times can vary widely based on the size and weight of your items. Items can take anywhere from 2-5 weeks to be delivered based on the customs process of your country. All customers are responsible for their own import fees. Tracking information is supplied with each and every order. Customers will have to allow an extra week of processing time for some items.
Livestock Shipping (Fish, Corals & Live Rock)
To minimize stress and to make sure optimum health, we attempt to deliver your livestock as quick as imaginable at a reasonable cost.
Corals will ship USPS Priority 2 day if they're very hard corals or small orders, Larger Coral orders or more sensitive Corals will ship USPS Express 1 Day.
Fish will ship USPS Express Saver 1 day.
Live rock will ship depending on what's ordered. Primo Deco for example needs overnighted, even as some rock like Real Reef Rock or Base Rock may also be shipped via UPS Ground. Depending on what you order we can contact you with options to have it overnighted to your door or shipped airfreight to the closest airport. Airfreight is the cheaper option but it is all up to you the customer.
FAQ's
Feedback
At SaltwaterAquarium we strive to do things different. We aim to keep things simple and only sell products we currently own or have used up to now. We are saltwater enthusiasts just like you, why would we sell you a product we would never buy ourselves? That's just silly. There's thousands of online stores, some who are cheaper, who simply try to sell anything and everything under the sun, they may be able to irrespective of quality. Here at our eBay store we only sell items we know work and have great value. This does a couple of things for us.
1. We know the products inside and outside because, we use them in our reefs/tanks. We will have to have the ability to answer any question you have.
2. We hardly each and every have complaints or returns because we do not sell the low end products with bad reviews that do not work.
3. Setting up our store in this manner makes for a better overall experience for you the customer.
Contact Us
One of the best ways to contact us is to message us on eBay or call us @ 888-700-1012.
| | |
| --- | --- |
| | |