Description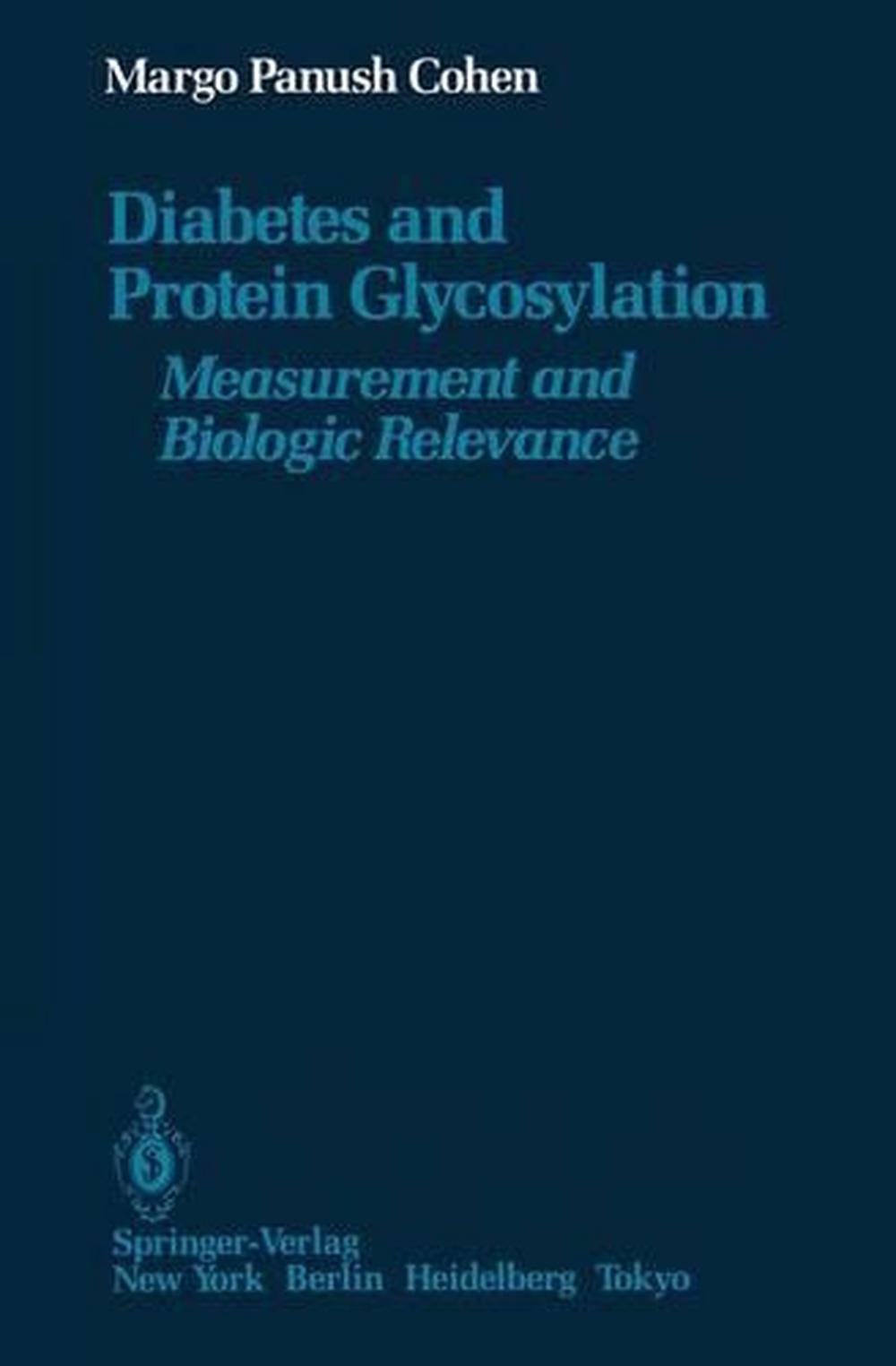 Diabetes and Protein Glycosylation: Measurement and Biologic Relevance
by Margo Panush Cohen
Estimated delivery

3-12 business days
Format
Paperback
Condition
Brand New
Description
In the years since the initial discovery that blood from diabetic patients contains increased amounts of a posttranslationally gluco­ sylated form of hemoglobin (hemoglobin Ale)' an impressive number of studies have clarified and expanded the use of glycohemoglobin levels to assess disease status. Many other structural proteins have been shown to undergo similar changes, including proteins from tissues most commonly affected in diabetes (e.g., lens, aorta, peripheral nerve, basement membrane). Thus, the nonenzymatic glycosylation of hemoglobin emerges as an invaluable model for the pathogenesis of certain chronic diabetes complications. In addition to reviewing a wealth of investigative possibilities in the area of these chronic complications-including eye, kidney, nerve, and vascular disease-Dr. Cohen indicates how enhanced nonenzymatic glycosylation in uncontrolled diabetes underscores the pressing need for maintenance of long-term euglycemia. Dr. Cohen is an endocrinologist and diabetes specialist whose research activities have largely focused on the chemistry and metabo­ lism of the basement membrane in diabetes. This superb monograph on nonenzymatic glycosylation clearly shows the major trends of her past and present research and clinical activities. This book is beautifully written and a pleasure to read. It provides great insight into the mechanisms of the pathogenesis of the oom- vii viii Foreword cations of diabetes and should be of immense value not only to basic and clinical investigators, but also to internists, diabetologists, and endocrinologists in clinical practic
Publisher Description
In the years since the initial discovery that blood from diabetic patients contains increased amounts of a posttranslationally gluco- sylated form of hemoglobin (hemoglobin Ale)' an impressive number of studies have clarified and expanded the use of glycohemoglobin levels to assess disease status. Many other structural proteins have been shown to undergo similar changes, including proteins from tissues most commonly affected in diabetes (e.g., lens, aorta, peripheral nerve, basement membrane). Thus, the nonenzymatic glycosylation of hemoglobin emerges as an invaluable model for the pathogenesis of certain chronic diabetes complications. In addition to reviewing a wealth of investigative possibilities in the area of these chronic complications-including eye, kidney, nerve, and vascular disease-Dr. Cohen indicates how enhanced nonenzymatic glycosylation in uncontrolled diabetes underscores the pressing need for maintenance of long-term euglycemia. Dr. Cohen is an endocrinologist and diabetes specialist whose research activities have largely focused on the chemistry and metabo- lism of the basement membrane in diabetes. This superb monograph on nonenzymatic glycosylation clearly shows the major trends of her past and present research and clinical activities. This book is beautifully written and a pleasure to read. It provides great insight into the mechanisms of the pathogenesis of the oom- vii viii Foreword cations of diabetes and should be of immense value not only to basic and clinical investigators, but also to internists, diabetologists, and endocrinologists in clinical practice.
Details
ISBN

1461293669

ISBN-13

9781461293668

Title

Diabetes and Protein Glycosylation: Measurement and Biologic Relevance

Author

Margo Panush Cohen

Format

Paperback

Year

2011

Pages

140

Publisher

Springer

Dimensions

6.1 in. x 0.4 in. x 9.2 in.
About Us
Grand Eagle Retail is the ideal place for all your shopping needs! With fast shipping, low prices, friendly service and over 1,000,000 in stock items – you're bound to find what you want, at a price you'll love!
Shipping & Delivery Times
Shipping is FREE to any address in USA.
Please view eBay estimated delivery times at the top of the listing. Deliveries are made by either USPS or Courier. We are unable to deliver faster than stated.
International deliveries will take 1-6 weeks.
NOTE: We are unable to offer combined shipping for multiple items purchased. This is because our items are shipped from different locations.
Returns
If you wish to return an item, please consult our Returns Policy as below:
Please contact Customer Services and request "Return Authorisation" before you send your item back to us. Unauthorised returns will not be accepted.
Returns must be postmarked within 4 business days of authorisation and must be in resellable condition.
Returns are shipped at the customer's risk. We cannot take responsibility for items which are lost or damaged in transit.
For purchases where a shipping charge was paid, there will be no refund of the original shipping charge.
Additional Questions
If you have any questions please feel free to Contact Us.