Dyson AM08 Bladeless Pedestal Fan | White/Silver | New 360º View
Dyson AM08 Bladeless Pedestal Fan | White/Silver | New 360º View
The Dyson Cool Fan provides fast, whole room, high velocity air to cool in summer. It uses Air Multiplier technology to amplify surrounding air to produce powerful airflow for whole room cooling. There are no blades – just an uninterrupted stream of smooth air. Air Multiplier technology draws in surrounding air and amplifies it for an uninterrupted stream of smooth air. Tip-over automatic cut out and no fast-spinning blades. Precise control, Sleep timer setting, variable airflow control- all from the remote control. Acoustically engineered for night-long comfort. Awarded the Quiet Mark by the Noise Abatement Society.
Features
Air Multiplier™ technology
Dyson fans use Air Multiplier™ technology to create a powerful stream of uninterrupted airflow.
Sound 35% quieter
Streamlined air channels for reduced airflow turbulence make Dyson Cool™ Pedestal AM08 35% quieter than AM03.
15% less power consumed
Engineered to create powerful airflow using less energy than AM03.
Sleep timer
Fan can be programmed to turn off after preset intervals ranging from 15 minutes to 9 hours.
Remote control
With 10 precise airflow settings sleep timer on/off and oscillation control. Curved and magnetized to store neatly on the machine.
Oscillation control
Airflow can be directed around a room – one touch for smooth oscillation.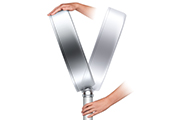 Oscillation control and touch tilt
Airflow can be diverted around a room – an independent motor drives smooth oscillation. Fan pivots on its own center of gravity staying put without clamping.
Easy to clean
No awkward safety grilles or blades.
Safe
No fast-spinning blades.
Acoustic Engineering
Awarded by the Noise Abatement Society for improved sound quality.
Specifications
Total height
43.6 – 55.4inches
Base diameter with plate
11inches
In the box
Remote control