FINNEX – 48″ PLANTED+ 24/7 AUTOMATED FRESHWATER LED
</p>
FINNEX – 48″ PLANTED+ 24/7 AUTOMATED FRESHWATER LED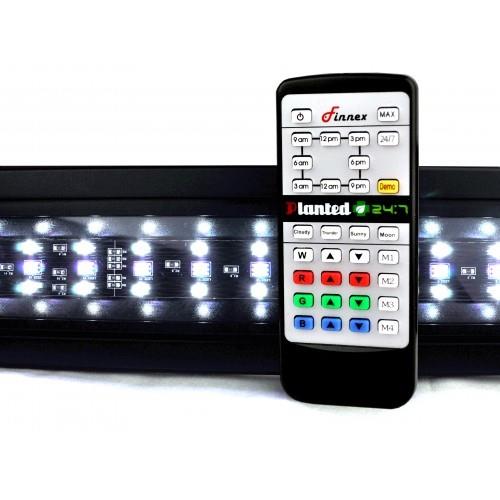 Click to Enlarge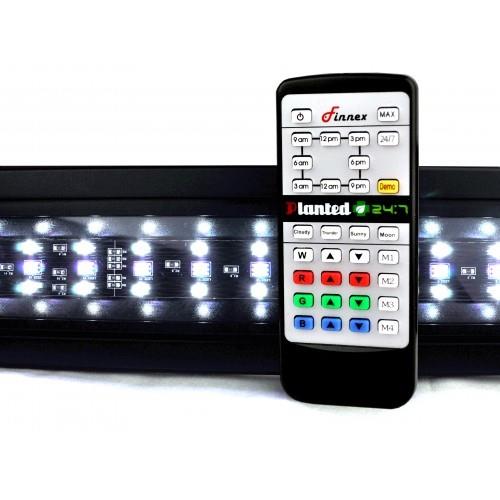 The Finnex Planted+ 24/7 LED fixture allows a hands free simulated sunrise & sunset to take effect atop user's aquariums. The 24/7 feature starts with a cool lit dawn, transitions in to a warm sunrise morning, followed by an intense color blazing high noon, scaling down to a red sun drowned sunset, and finishes with a starry night blue moonlight. The cycle will repeat itself in real time, hands free, day after today.
48″: 96 x 7000k, 48 x RGB LEDs
48″ x 3.35″ x 78″
46 Watts
AC110-240V
Aluminum Construction
Fully Automated Aquarium LED Fixture w/ Controller
Hands Free: Simulating Fire Red Sunrise to Blue Starry Night
The fixture is equipped with a remote that allows day elements such as a Thunderstorms, Cloudy Days, Sunny Days, and Moonlights to be activated with a click of a button. Also accessible via the IR controlled remote are four (4) memory slots in which a user can easily customize and save countless color combinations and lighting intensities if the user does not need to use the 24/7 feature. Along with the dimmable Red, Green, and Blue LEDs, the fixture also incorporates 7,000k Daylight LEDs to allow planted aquariums to thrive. Equipped with memory, the fixture remembers last saved settings as to make it compatible with standard timers. The fixture interacts with the controller via a water resistant IR sensor. The fixture's clear legs can slide inwards if need be to mount shorter aquariums. The legs feature screws capable of mounting rimless aquariums. For those with larger rimmed aquariums, the legs also feature a removable inner portion to accommodate the sort of width. Built out of quality constructed aluminum and featuring a water resistant splash guard, the 24/7 used to be built with longevity in mind.
Returns
We learned early on that going that extra inch can help your business tremendously. Buyer Satisfaction is #1.
All domestic US returns accepted.
Buyer will have to contact us within 14 Days after receiving the item.
Refund given as Money Back or Credit depending on the item.
Return shipping will be paid by your buyer.
Additional return policy details: The buyer has 7 days to go back the item (the buyer pays shipping fees). The item will be refunded minus a 15% restocking fee and all shipping costs.
Shipping
Aquarium Supplies (Dry Goods) Shipping
To reduce shipping costs, all aquarium supplies are shipped UPS, Fedex & USPS. Orders can ship from more than one warehouses right through the country. We attempt to keep inventory local to you to keep shipping times and expense low. Our primary warehouses are in PA, TN and AZ. Most orders submitted by 2pm EST (Monday-Friday) are shipped same day. Orders Friday and over the weekend after 2pm EST will ship Monday unless it's an item that ships our of a 24/7 warehouse. Aquarium supplies orders that are shipped UPS will be delivered Monday through Friday. USPS or FedEx will be delivered Monday through Saturday. We deliver pretty much anywhere in the domestic 48 within three to five business days but this isn't guaranteed and depends on your zip-code.
International Shipping
We DO offer international shipping on some items. Shipping times can vary widely based on the size and weight of your items. Items can take anywhere from 2-5 weeks to be delivered based on the customs process of your country. All customers are responsible for their own import fees. Tracking information is supplied with each order. Customers must allow an extra week of processing time for some items.
Livestock Shipping (Fish, Corals & Live Rock)
To minimize stress and to make sure optimum health, we attempt to deliver your livestock as quick as conceivable at a reasonable cost.
Corals will ship USPS Priority 2 day if they're very hard corals or small orders, Larger Coral orders or more sensitive Corals will ship USPS Express 1 Day.
Fish will ship USPS Express Saver 1 day.
Live rock will ship depending on what's ordered. Primo Deco as an example needs overnighted, at the same time as some rock like Real Reef Rock or Base Rock can also be shipped via UPS Ground. Depending on what you order we can contact you with options to have it overnighted to your door or shipped airfreight to the closest airport. Airfreight is the cheaper option but it is all up to you the customer.
FAQ's
Feedback
At SaltwaterAquarium we strive to do things different. We aim to keep things simple and only sell products we currently own or have used up to now. We are saltwater enthusiasts just like you, why would we sell you a product we would never buy ourselves? That's just silly. There's thousands of online stores, some who are cheaper, who simply try to sell anything and everything under the sun, they are able to without reference to quality. Here at our eBay store we only sell items we know work and have great value. This does a couple of things for us.
1. We know the products inside and outside because, we use them in our reefs/tanks. We will have to be capable to answer any question you have.
2. We hardly each have complaints or returns because we do not sell the low end products with bad reviews that do not work.
3. Setting up our store in this manner makes for a better overall experience for you the customer.
Contact Us
The easiest way to contact us is to message us on eBay or call us @ 888-700-1012.


Attention Sellers – Get Templates
Image Hosting, Scheduling at Auctiva.com.