Description
3 BOXES

Holle is the best possible for those who matter most

1 box includes 600g (21.3oz)

Makes about 130oz of mixed able formula
Holle is an organic European baby formula, some distance superior to all other formulas, both American and European. Holle has no concerning ingredients which might be found in such a lot formula you get within the U.S. such as, white sugar or corn syrup and it even avoids many preservatives and cancer causing agents which might be found even in other organic formulas.
It is acceptable to be used from 12 months onwards or if changing from breastfeeding. It's ideal for feeding in a bottle, but in addition for making ready Holle Wholegrain Porridges. It's simple to digest, gluten-free, no added sugar, and made with Demeter milk
Why Holle Formula?
The production for the Holle Organic Baby Formula Milks and Baby Cereals takes place in Germany. The production lines are up to date, the use of the most recent technology and are ISO certified. The grain used for the Organic Baby Food grows in healthy soil on Demeter certified biodynamic farms in Germany.
With over 75 years of producing Organic Baby Food the use of Demeter products.
Since November 2014, Holle has been compensating for CO2 emissions generated right through production in their Organic Baby Milk Formulas ,Organic Baby Porridges and Milk Cereals. Holle obtain their emission certificates in the course of the biodynamic compost projects in Egypt and South Africa.
Holle specializes in naturalness and using pesticides or chemical fertilizers are strictly prohibited with none compromises. After 75 years within the business Holle continues to be best the use of raw ingredients grown to biodynamic or organic standards for his or her Organic Baby formula. Organic Bioland farmers stand for: species-appropriate stockbreeding, plant protection and soil fertilization without chemical or synthetic agents and careful management of soil's fertility.

Ingredients:
Skimmed milk** (Germany), whey powder* in part demineralized, vegetable oils* (palm oil*, rapeseed oil*, sunflower oil*), maltodextrin*, calcium carbonate, potassium chloride, sodium chloride, vitamin C, vitamin E, ferrous lactate, zinc sulphate, niacin, Calcium-D-pantothenate, copper sulphate, vitamin A, vitamin B1, vitamin B6, manganese sulphate, potassium iodate, folic acid, vitamin K, sodium selenate, vitamin D
**from biodynamic farming (Demeter quality)
Preparation: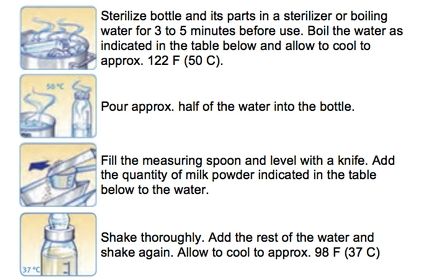 Feeding chart after 12 months

Quantity of water (ml/ oz)

Measuring spoons

Serving (in ml)

Bottles per day

150ml / 5.07oz

5

170ml / 5.74oz

2-3

180ml / 6.08oz

6

200ml / 6.76oz

2-3

210ml / 7oz

7

235ml / 8oz

2-3

*When approximating use 1 measuring spoon per 1 ounce of water


This baby formula isn't expired – the expiration date is 12/2018 or later