Garage Door Torsion Springs (Pair) .207 X 2″ – Select Your Length with Options
One Pair of Quality, USA Made*, Garage Door Torsion Springs with Replacement Center Bushing and Option to shop for Winding Rods
Includes 1 Right Wound and 1 Left Wound Spring, Wire size is .207, Inside Diameter is 2″, length is selected in the drop-down list (Other Lengths are To be had, Message Us for Quote)
From the drop down list it is important to select whether you wish to have a nylon bushing or a steel bearing.
You will receive only ONE (1) bushing or bearing with a pair of springs.
Please read the complete listing for instructions on how to measure a torsion spring,
Our springs are made in america the use of Oil Tempered, USA made Wire, – this makes for a spring that is durable and will out survive imported springs. Cycle rating depends on the spring size and how many turns are required,
*Winding and Stationary cones are included and are Pre-installed (Cones are imported)
Our springs include a 2 year limited warranty against pre-mature failure
Need help installing or ordering the springs? We provide free strengthen on any products purchased from us.
How to make a choice the right kind spring (Please Read)
First of all it is very important to have the right kind spring for your door, if the spring is not matched accurately to the door, it will not work properly and will also be dangerous or damage your operator. Just remember to measure the spring accurately and in case you have questions, please message us before ordering.
Step 1 is to measure the wire diameter. To try this it is important to measure 10 coils then compare that measurement to the chart below to see the wire size,double check by measuring 20 coils and compare to the 10 coil measurement, if the 2 measurements do not match, try measuring in a different area of the spring and also make sure the spring is not stretched. Do not measure in the ends where the cones are, the cones stretch the ends where they're installed..
10-Coil Measurement

20-Coil Measurement

Wire Size

in

cm

in

cm

1 3/4″

4.50

3 1/2″

8.99

0.177

1 7/8″

4.76

3 3/4″

9.53

0.187

1 15/16″

4.88

3 7/8″

9.75

0.192

2″

5.08

4″

10.16

0.200

2 1/16″

5.26

4 1/8″

10.52

0.207

2 3/16″

5.55

4 3/8″

11.11

0.218

2 1/4″

5.72

4 1/2″

11.45

0.225

2 5/16″

5.95

4 5/8″

11.90

0.234

2 3/8″

6.02

4 3/4″

12.04

0.237*

2 7/16″

6.19

4 7/8″

12.38

0.243

2 1/2″

6.35

5″

12.70

0.250

2 5/8″

6.67

5 1/4″

13.34

0.262

2 3/4″

6.93

5 1/2″

13.87

0.273

2 13/16″

7.19

5 5/8″

14.38

0.283
*Note: the .237 wire size has been discontinued, in case you have that wire size, message us with the size of the spring for a replacement size.
Step 2 is to decide the spring inside diameter, if the spring is broken you'll be able to simply use a ruler to measure the inside of the broken end, if the spring is still in one piece you'll be able to measure the outside and deduct the wire size X 2. You also could possibly find stampings on the cones that allows you to help decide the ID, ( P200 or P2000 for 2" and P175 for 1 ¾") The most common sizes in residential springs are 1 3/4″ and 2″ ( Raynor doors use 2 ¼" ID )
Step 3 is to measure the length of the spring, Measure the spring only, not including the winding and stationary cone. If the spring is broken measure each piece and add the two measurements together to get the total length. If the spring is still in one piece and wound, it is going to be longer by 2-3" then when it is relaxed.. the right kind way to measure is to unwind the spring to measure the right kind length,
Step 4 is only important if ordering a single spring, decide the wind direction of the spring, ( right hand wind ( RW) or left hand wind (LW). Below is an example of the different spring winds. This is one of the crucial confusing a part of the spring ordering process, as The RW is in most cases on the Left side and the LW is in most cases on the Right side. You'll want to check the wind direction and not make assumptions. If you look at the end of the spring and compare to the picture below, it is possible for you to to decide the right kind wind direction.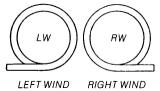 We are a Pro Garage Door Installation
and repair Company. We carry many repair parts for a variety of brands of
doors. If you are in search of a part and we don't have it listed, just message us through eBay and we'll
quote a price and set up a listing for you through eBay.

CAUTION: Installing or repairing a garage door can be
dangerous task. Garage door springs and cables are under extreme tension and
require appropriate safety precautions. Working with garage doors and
openers could result in personal injury or death. We recommend all installations,
repairs, adjustments, and removals on garage doors be made by a qualified
garage door technician. Any attempts to install, repair, replace, adjust garage
doors or openers are done at your risk. In no event shall
M. C. Overhead Door parts division be liable for damages of any kind,
personal injury or death. User assumes all responsibility/risk to be used of
information and products purchased. By purchasing
our products you agree to these terms.