Description
This Gear VR Headset is compatible with Samsung Galaxy S9, S9+ S8, S8+, S7, S7 edge, Note5, Note 8, S6 edge+, S6 and S6 edge.
2
interchangeable USB device holders (USB type-C and Micro USB) are
included inbox, so you'll easily connect any Samsung Galaxy device that
supports Gear VR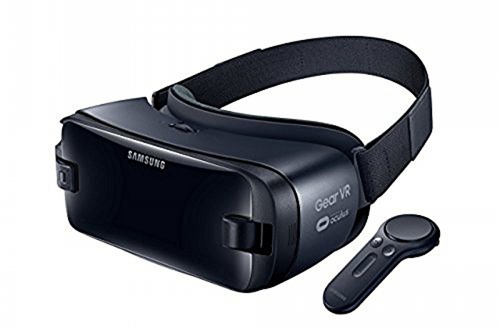 What's Included in the box:
Samsung Gear VR
Gear VR controller
USB Type-C device holder
Controller holder
2xAAA batteries
Wrist strap
Micro USB device holder
Micro USB connector
Owner's manual
from the manufacturer
Product Features
Make your world bigger

Samsung Gear VR¹ transforms virtual reality with a new handheld
controller that seamlessly responds to organic, human movements in
virtual experiences.² Every move, from turning and grabbing to pointing
and lifting, is naturally connected from physical to virtual, making it
more intuitive and spellbinding than ever before. Flying through the
Alps, watching a film with a far-off friend, experiencing a festival
across the globe, and employing the superpowers of your game's character
– your world just got infinitely bigger.

Power moves

With
a new Gear VR controller that's right in the box, you'll explore, game
and navigate with organic movements. Drop, point, lift and move with
total agility, and browse menus with more natural responsiveness.

Powered by Oculus

Oculus,
the leader in virtual reality technology, incessantly debuts new
experiences like Hulu shows, guided meditations, language tutorials and
hundreds more in their already massive VR store.

Game on

Jump
straight into the action of your favorite game and start throwing,
steering and aiming with the new incredibly responsive handheld
controller. Fresh titles like A Night Sky and End Space, plus
multi-player adventures are added always.

Endless entertainment

Explore thousands of exciting 360o
experiences from Samsung VR's premium video service. Lose yourself in
street festivals around the world, snag front-row seats to a concert, or
kayak through a protected rainforest. Plus, when you create stories of
your own on Gear 360, you'll upload and share them on Samsung VR.

Let your imagination take hold

Place
your Galaxy S9 into the Gear VR headset¹ to explore multi-dimensional
worlds in virtual reality. Travel the planet, play games and watch
content with organic, intuitive responses through the handheld
controller.

We Ship daily, Monday – Friday. If you pay for your item before 4:00pm

(PST)

, It'll ship same day Monday – Friday. Otherwise, It'll ship the next business day.
You will be emailed with a tracking number after your item ships.
Items
will be shipped to the shipping address you specify via paypal. We are
NOT able to change the shipping address once payment has been made.
We do not ship internationally, but we are part of eBay's Global Shipping Program!
Local pick ups don't seem to be allowed.

We accept all forms of PayPal payment.


If
the items don't seem to be as described, i will be able to offer a Full refund . In most
cases this will be minus shipping and Ebay fees, although if it was a
blatant mistake by myself I'll pick up everything . Bottom line, i want
my costumers to be happy!!



Buy
with confidence, a 14 day money back Guarantee If your product isn't
everything advertised, return it for an exchange, or full refund if the
item is not available…
Feedbacks
*We
guarantee
to leave all customers positive feedback the following day after positive feedback is received or you are going to get $5 dollars credit 🙂
*We encourage our customers to contact to me in order to get to the bottom of any issues regarding the transaction before leave negative feedback on eBay.
Please make sure to contact us before you leave feedback
*Ebay New rules is that a neutral and/or anything less than 5 starts is thought of as a NEGATIVE!!
If you do not think your transaction was worthy of a 5 star feedback. Please contact us!
Thank you.