New YUNEEC Typhoon H Hexacopter 4K Camera CGO3+ Professional Drone Bundle


Manufacture/Brand : Yuneec


Model :
TYPHOON H


Condition : New Open
Box
Works Perfect.
Lightning -Fast Shipping from OH , USA
Intel RealSense isn't included.
Award-winning
innovation
Typhoon H is an
advanced aerial photography and videography platform to be had in any such compact
size. Driven by customer demand for a design that goes beyond the limitations of
a traditional quadcopter, Typhoon H delivers capabilities in the past only found
in high-end professional offerings, but at a consumer price.
Typhoon H
offers flight durations of up to 25 minutes at the same time as filming with the CGO3+ 4K UHD
camera. The Android powered ST16 Ground Station features a 7-inch touchscreen
that displays live footage of your flight in HD 720p resolution and enables a
wide variety of autonomous flight modes.

NEW:
Since software
version 3.0, the Typhoon H, along with improved flight stability, is now
also equipped with a redundant wireless signal for more security, a function for
panoramic photography and one for time-lapse recordings and shots, and also
functions for serial photography. In order that updates are even easier to install, we
have also introduced an OTA update function. That means that every one future updates
will be downloaded simply by way of Wi-Fi the use of the ST16 and automatically installed
on the remote keep watch over, camera and hexacopter.
The newest Typhoon
H software is
to be had free of charge.


Here you'll
find a video tutorial on installing updates.

A full 360° view of the world
The 3-axis
anti-vibration CGO3+ gimbal camera captures ultra-stable 4K ultra high
definition video, vivid 12-megapixel still images and will also be rotated through an
unlimited 360° range of motion. The CGO3+ gimbal camera features a high-quality
glass wide-angle lens with a 94° field of view, and offers manual camera
settings at the same time as in flight.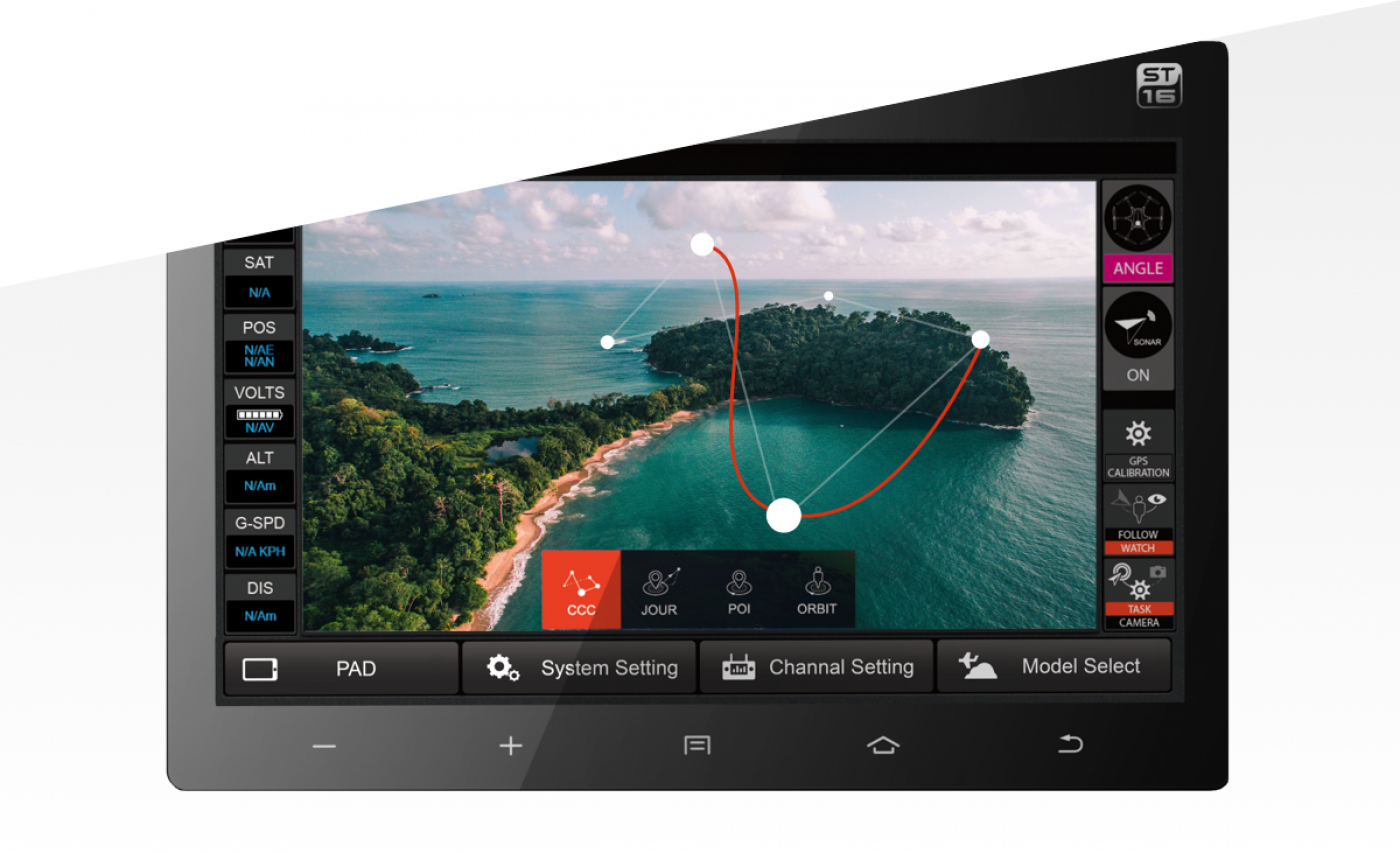 ST16 all-in-one controller
The ST16 Ground
Station is an integrated transmitter, receiver and Android platform that gives
you full keep watch over over Typhoon H, allowing you to easily program autonomous
flight and capture stunning photos and videos. The large 7-inch integrated
screen displays real-time footage of your flight, getting rid of the need for an
external device.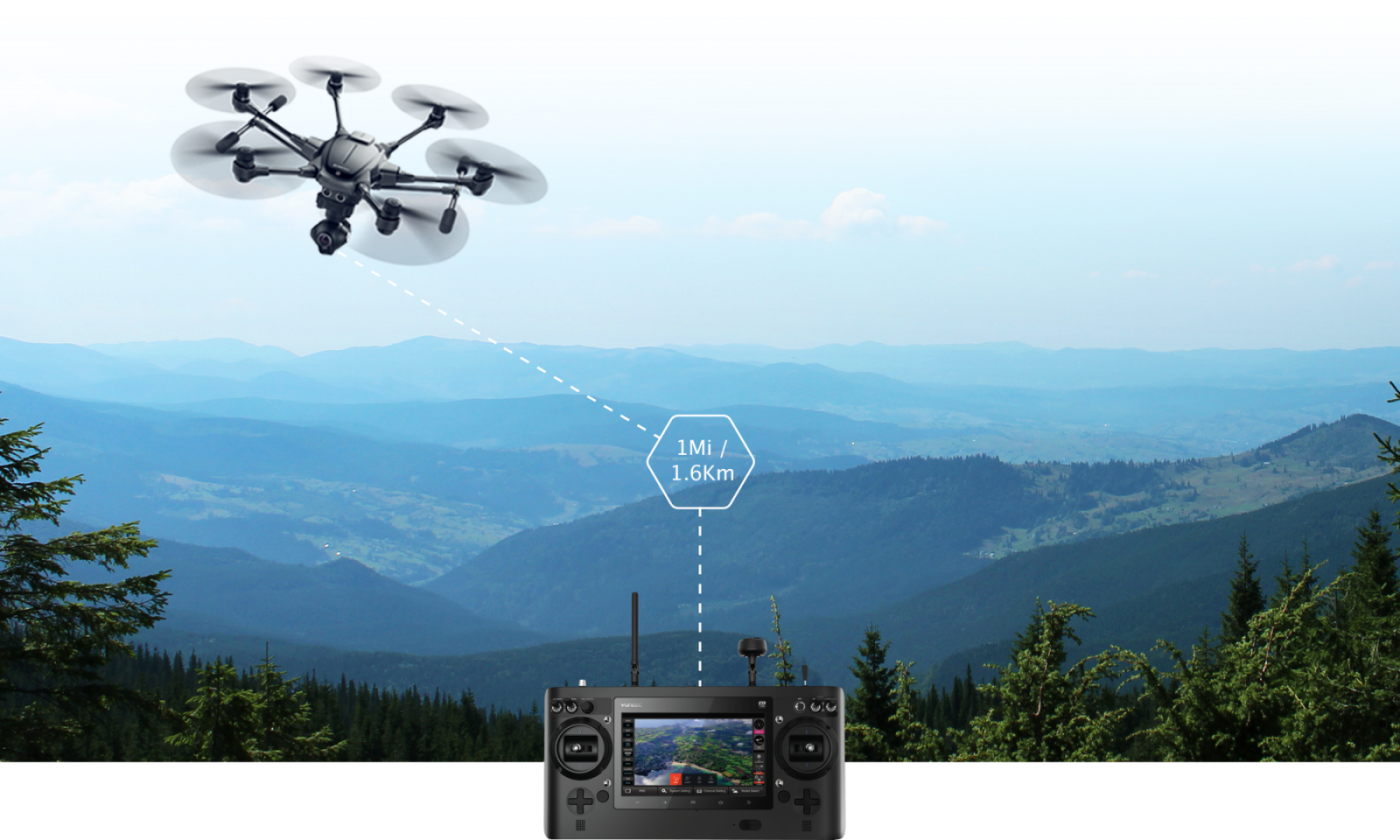 Digital video downlink in HD (720p)
View real-time
footage in HD 720p on the screen of the ST16 transmitter with the integrated
digital video downlink with a range of up to 1.6 km.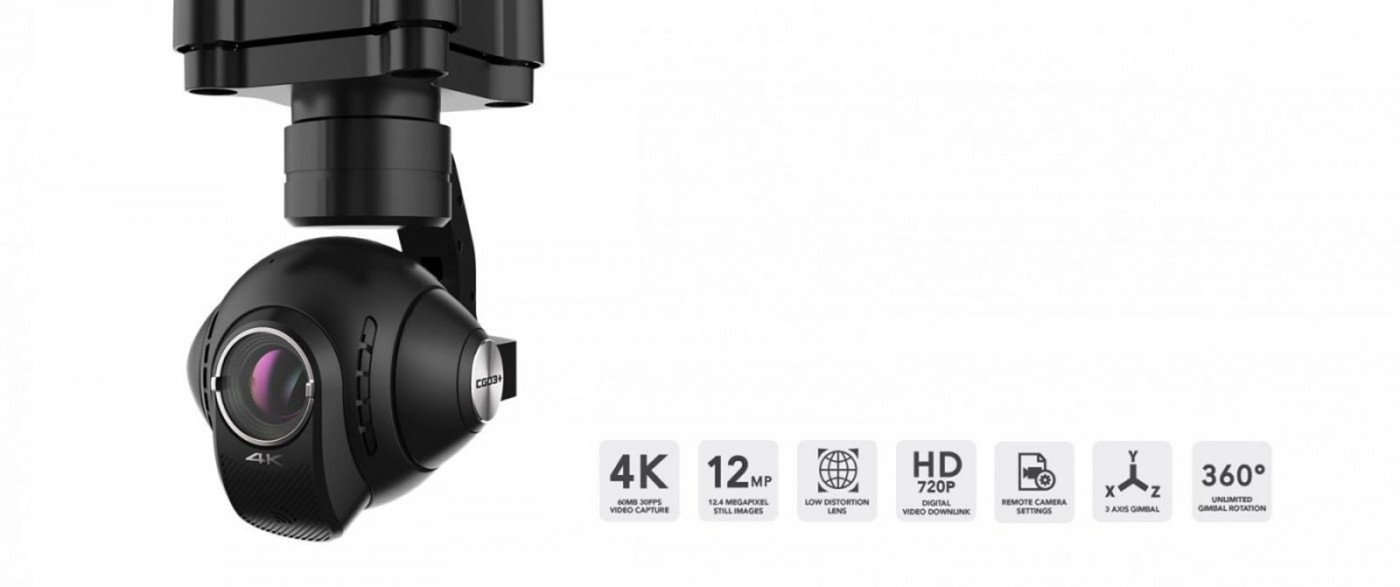 More than one intelligent task modes
Take your
creativity to the next level by letting Typhoon H's autonomous flight modes
focus on the flying at the same time as you focus on the shot.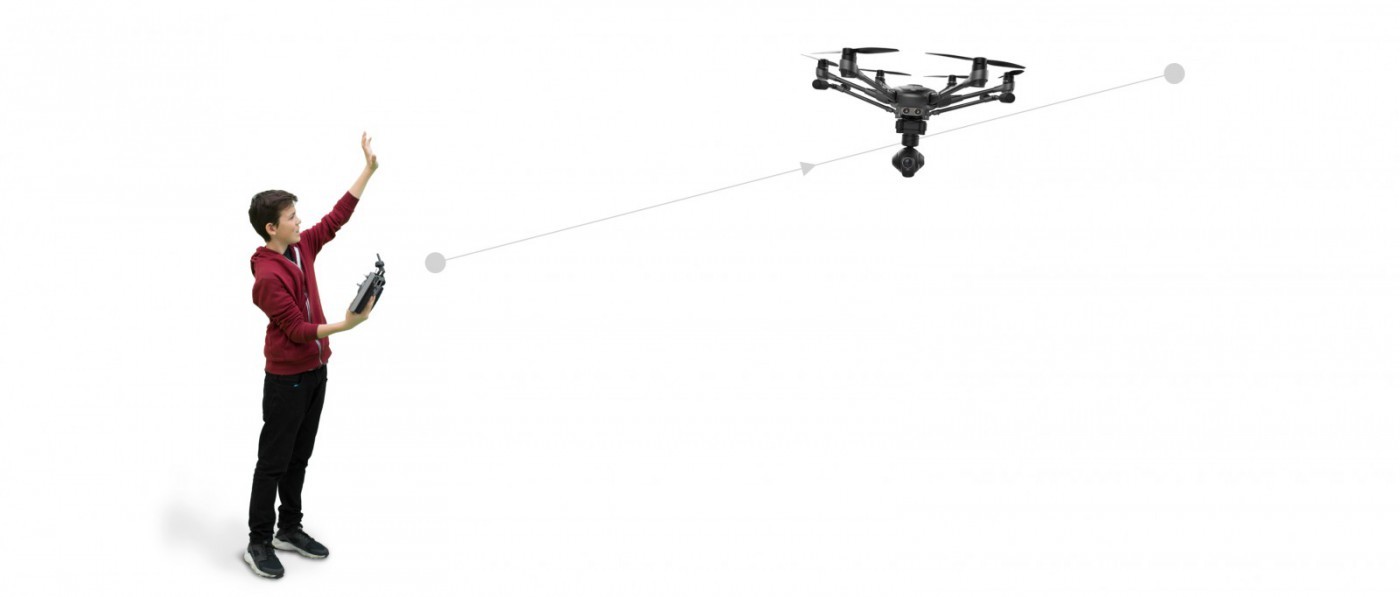 Sonar collision prevention
Intel®
RealSense™ – Intelligent front sonar sensors allow Typhoon H to stop short of
obstacles automatically, ensuring a safer, stress-free flying experience.

Journey Mode
Typhoon H will
automatically go up and out, so far as 90 m, and capture the very best aerial
selfie.

Follow Me / Watch Me
Follow Me
ensures Typhoon H moves together with you. Watch Me tells Typhoon H to follow you
at the same time as all the time pointing the camera at you wherever you go.

Curve Cable Cam
Easily program
an invisible route for Typhoon H to fly along. Typhoon H will fly between
pre-set coordinates at the same time as independently controlling camera position.

Return Home
Simply switch
to Home Mode and Typhoon H will return and land within 8 m of you.
Smart safety function
Ensuring utmost
safety, the FAA-compliant No Fly Zone feature prevents flight near commercial
airports. The No Fly Zone feature also prevents flight above 122 m from the
ground. The built-in GPS establishes an 8-m diameter Smart Circle around the
pilot when taking off and landing and also creates a Geo Fence that helps to keep the
aircraft from travelling further than 91 m from the pilot's position.
Easy propeller installation
Quick release
buttons make installing and removing each and every propeller simple and fast. In spite of
its simple action, high-performance propellers make Typhoon H agile, fast and
instantly responsive to commands.

Retractable landing gear
Typhoon H's
landing gear retracts out of the way to provide you with a full, 360° view of the world
without anything obstructing your view.

Foldable arms
Each one of the crucial
six arms folds down for convenience and compactness.

What makes the Typhoon H so unique
Intel®
RealSense™ technology with automatic obstacle and collision avoidance system
25 minutes'
flight time so you'll be able to enjoy flying it for longer
4K camera with
360° gimbal for breath-taking shots and videos
Integrated
Android operating system
Diverse,
versatile and intelligent flight modes (Orbit, POI, Journey, Curve Cable Cam,
Follow Me, Return Home)
Quick and easy
switching between individual applications
Increased
flight safety thanks to the 5-rotor mode – Flight safety is maintained even
when automatically switching from 6 to 5 rotors whenever a motor fails
Retractable
landing gear and arms for convenient transport
Cooling system
for flights at high temperatures
Capable of
flying even in strong winds
Team mode with
Typhoon Wizard and ST16
Easy to
care for and handle
Small parts are
to be had as spare parts
Typhoon H versions at a glance
TYPHOON H
Typhoon H Hexacopter + CGO3+ gimbal camera + ST16 remote keep watch over + 1x battery +
charger + power supply unit & adapter + accessories
Lightning -Fast Shipping from OH , USA

Feedback:

We stand at the back of our product and would appreciate a positive 5
star feedback. Your 100% satisfaction is our goal , please contact us
immediately you probably have any questions or concerns prior to leaving neutral or
negative feedback. Best way to contact us would be through eBay messaging
system, we can respond within 24-48 hours with the exception of holidays and weekends.

Shipping and payment:
We accept paypal only.
Payments should be received within 2
days after the end of auction.
Shipping to: Worldwide

We do not ship to AK, HI,
PO boxes, or APO addresses.
Please provide physical address.
International buyers should purchase
through Global Shipping Program only.

Your item usually will be shipped within
1 business day of receipt of confirmed payment.

Returns:

Returns are accepted within 30 days