Thomas Kinkade Bradford Exchange It's Christmas Time Candle Holder Centerpiece
Thomas Kinkade Bradford Exchange
It's Christmas Time Candle Holder Centerpiece


Brand New / Never Displayed / one hundred% Authentic From Thomas Kinkade Galleries of New York & New Jersey
Each candlelit moment of the vacation season is an opportunity to share timeless moments of joy, peace and love with the ones you hold dear. Now, celebrate this merry and wondrous time of year with the Thomas Kinkade It is Christmas Time Candle Holder, this
illuminated
holiday centerpiece featuring the artwork of Thomas Kinkade, exclusively from The Bradford Exchange. Showcasing fresh-taking a look Santa's across the candle, Every in my opinion hand-crafted from a subject material that rivals nature itself, this limited-edition Thomas Kinkade holiday centerpiece is an effective way to herald the vacation season!
When the magic of Santa Claus and the beloved wintry visions of Thomas Kinkade combine, the result's as merry as may also be! Now, Thomas Kinkade's magnificent art becomes an integral a part of the Thomas Kinkade Heirloom Santa tabletop candle. Every Santa Claus On this masterwork showcases a different Thomas Kinkade scene on his ornate cloak, reproduced with amazing richness of color and fidelity of detail.
The Thomas Kinkade image within the background is referred to as St Nicholas Circle.


Image Notes:
I started this painting in Norman Rockwell's famous studio near Arlington, Vermont. Many charming New England cottages made their way into St. Nicholas Circle. On this idyllic spot time stands still, and It is Christmas all year 'round.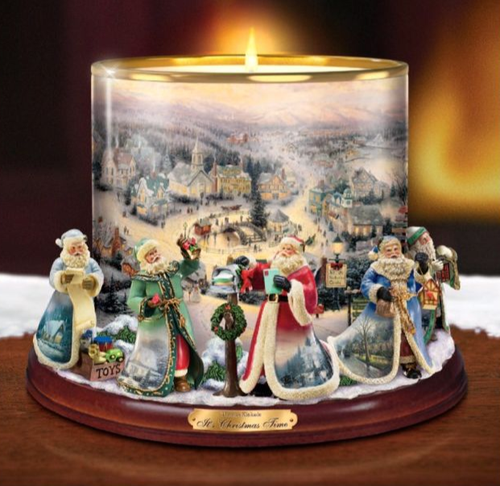 It is our absolute best goal and perfect intention to offer exemplary customer service. Open and honest two-way communication is the important thing.
If you are feeling that you can not leave 5 star feedback for any explanation why, please contact us so we might get to the bottom of the placement prior to feedback being left.
© Thomas Kinkade Galleries of New York & New Jersey