Description
Training Device Carbon Fiber Finish Model: CF ACCUBOW-4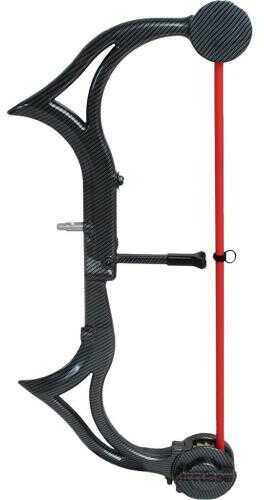 Note: We use stock photos from the manufacturer. Please read the item description for details.
Contact us when you've got any questions.
---
AccuBow Training Device Carbon Fiber Finish
The AccuBow effectively targets and strengthens every muscle fiber involved in shooting your bow. With this training system it is possible for you to to increase your pulling strength, holding stability, and shooting stamina. Through the usage of the built-in laser sight, You'll effectively train the mind-muscle connection needed to be a consistently accurate archer. The AccuBow will will let you increase your physical capacity, practice proper mechanics, and get rid of bad habits such as target panic, canting, and rushing through your shot right through the moment of truth. Features 10-70 pounds of easily adjustable resistance in one band, built-in laser sight for stability and accuracy response, vibration dampening system for unlimited dry-firing, uniquely designed grip to simulate feel of most popular bow grips in the marketplace today, level bubble attachment to make sure proper vertical alignment, D-Loop attachment to allow use with a mechanical release.
Carbon
Strengthens muscle fiber used in shooting bow
Adjustable 10-70 lbs
Vibration dampening for unlimited dry firing
Manufacturer: AccuBow
Model: CF ACCUBOW-4

---

SKU: 11189142

Manufacturer: AccuBow

Model Number: CF ACCUBOW-4

UPC: 857151006005

---

Why Buy From Wholesale Hunter?
Superior Products: The items we sell are new and in their original packaging from the manufacturer.
Proven Track Record: We have been selling on eBay since April of 1998.
Real Business: You'll call us and speak to a live person.

For a more prompt exchange/refund, please keep your invoice!
---
All merchandise returned for an exchange / refund, should meet the following conditions:
Returned within (14) days of the customer receiving the product. (This can also be extended for special circumstances.)
Returned in original packaging.
Returned to us in re-sellable condition.
Copy of invoice enclosed with merchandise.
Enclose a brief letter of explanation for the reason of item return.
You should contact us for a RMA (Return Merchant Authorization) number and write the number on the outside of the shipping box (do not write on the item's packaging).
You should return the goods to the warehouse(s) specified in the RMA and it is the customer's responsibility to make sure the correct return address before sending goods back. Any good shipped to the mistaken location will incur additional shipping charges. We aren't responsible for any goods returned to the unsuitable address.

---
Merchandise returned for a refund is subject to a 15% restock fee and all shipping charges.

There is a minimum restocking fee of $5.00. Shipping charges aren't refundable. If you return an item for a refund that had free shipping, a normal shipping charge will be deducted from the refund.
---
Returns and Exchanges are NOT Allowed On:
AIR PISTOLS, AIR RIFLES AND ANY OTHER TYPE OF AIR GUN
SCOPES, if they have been mounted
LEOPOLD OPTICS
Other optics if the SEAL has been BROKEN
Items manufactured by CAS Hanwei
Floor Safes
UNDERGARMENTS
SWIM WEAR
SAFETY GEAR including harnesses, helmets, and ropes
Tree stands of any kind
Bows and Crossbows
First Aid items
---
Please contact us when you've got any questions concerning an exchange / refund.
If the merchandise you receive is defective, please call our customer service department for instructions.
Item Condition and Packaging
Items will only be accepted for return if the item and its packaging are in new, unopened and unused condition. This includes blister packs and shrink wrapping that an item may come must be uncut and / or unaltered. Note: Certain manufactures, like Leupold, will not allow us to take items back that the blister pack and or shrink wrapping have been opened.
In cases that we are unable to take an item back, it is important to contact the original manufacturer for warranty work / repairs.
Shipping Time Frame
Most orders ship in 1-2 business days from the time payment is processed.
Insurance is Included
For your protection, all items are shipped with insurance. If you receive an item and it was damaged in shipment, you are covered.
No PO Addresses
We do not ship to PO Addresses. If you place an order with a PO Address, your order may be canceled and refunded.
No Freight Forwarders
We do not ship to freight forwarders. If we discover an order with a Freight Forwarder address, your order may be canceled and refunded.
No International Shipping
We only ship to the lower 48 stated within the United States

(Excludes: Alaska/Hawai).
We do not ship Internationally. This includes APO, FPO, Guam, or Puerto Rico.
We do not ship to freight forwarders.
We do not accept international payments.
Requests to ship to places outside of the 48 US states will be ignored.
No International Paypal Payments will be Accepted.
No Exceptions.

Preferred Method of Payment: PayPal
You can pay via PayPal the usage of eBay's checkout.
Note: PayPal accepts credit cards
8:00AM to 6:00PM CST Monday – Friday
9:00AM to 5:00PM CST Saturday
If a dispute arises between you and us, our goal is to will give you a neutral and cost effective means of resolving the dispute quickly. We strongly encourage you to first contact us directly to searching for a resolution by sending an email to us. We will be able to imagine reasonable requests to unravel the dispute through alternative dispute resolution procedures, such as mediation or arbitration, as alternatives to litigation.
Choice of Law and Forum
This Agreement shall be treated as though it were executed and performed in Elmore County Alabama and shall be governed in all respects by the laws of the State of Alabama without regard to conflict of law provisions. You agree that any claim or dispute you might have against us should be resolved by a court located in Elmore County Alabama, apart from as another way agreed by the parties. You agree to submit to the personal jurisdiction of the courts located within Elmore County Alabama for the purpose of litigating all such claims or disputes. OAA sets the sum of $1,500.00 as liquidated damages for breach of this agreement above a reasonable attorney's fee.
Improperly Filed Claims. All claims you bring against us should be resolved in accordance with this Dispute Resolution Section. All claims filed or brought contrary to this Dispute Resolution Section shall be considered improperly filed. Must you file a claim contrary to the Dispute Resolution Section, we may get well attorneys' fees and costs, so long as we notified you in writing of the improperly filed claim, and you have got failed to promptly withdraw the claim.