Description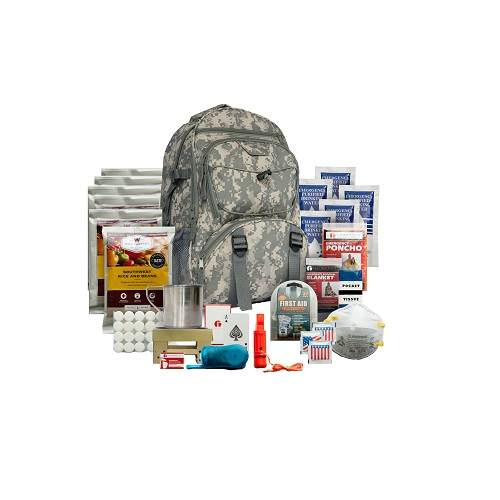 Please note: product images are provided to us by the manufacturer and once in a while do not represent the exact color, size, or style of the particular item.
Wise Foods 5 Day Emergency Survival Backpack in Camo 01-622GSG
The Wise Foods Survival/Emergency Backpack provides all very important survival needs for 1 adult for 5 days–food, light, cooking equipment, tools, and important first aid–packaged inside a camo backpack for organization and clutch-and-go convenience. Materials are non-perishable and will probably be there whilst you actually need them. It can take several weeks for emergency crews to succeed in you all the way through a major disaster. This 5-Day Survival BackPack comprises all of the fundamentals one person needs for survival when other options are exhausted. Because it is organized in a convenient easy-to-carry backpack it is easy to abruptly clutch when you are evacuating all the way through extreme circumstances. Bring it along all the way through road trips, hikes or campouts for quick get admission to to life-saving provisions! Having a kit like this is not just convenient it might if truth be told save lives. In a best-case scenario, you are going to never have to make use of it. But do yourself a favor by having emergency supplies to be had just in case. You never know what could happen, and if things get chaotic, it is possible for you to to have peace of mind knowing that you and your circle of relatives are taken care of. Emergency officials also recognize the need for being prepared. FEMA (Federal Emergency Management Agency) recommends that every person in your household will have to have at LEAST three days' worth of supplies in case of emergency. Includes 1 Total Backpack. Food is Safely Sealed in Mylar Pouches. 32 Total Servings–Just Add Water. Up to 25 year shelf life. Additional Product Details: Total Weight: 11 lbs. Apple Cinnamon Cereal, Brown Sugar Cereal, Creamy Pasta, Southwest Beans and Rice, Rice Pilaf, and Whey Milk, Six 4.227 FL. oz. Water Pouches; Portable Stove Including 24 Fuel Tablets; Stainless Steel Cup; Squeeze Flashlight; 5-in-1 Survival Whistle; 47 piece First Aid and Hygiene Kit; Including 37 Piece Bandage Kit; N95 Dust Mask; Pocket Tissues; 3 Wet Naps; Waste Bag.
• 32 Servings of Gourmet Meals. Includes: Apple Cinnamon Cereal, Brown Sugar Cereal, Creamy Pasta, Southwest Beans and Rice, Rice Pilaf, and Whey Milk
• 5 Water Pouches
• Portable Stove Including 24 Fuel Pouches
• Stanless Steel Cup, Squeeze flashlight, 5 in 1 Survival Whistle, Waterproog Matches, Mylar Blanket, Emergency Poncho and Playing Cards
• 42 Piece First Aid and Hygiene Kit. Includes Bandage Kit, Dust Mask, Pocket Tissues, Wet Naps and a Waste Bag
Product Details
| | |
| --- | --- |
| Product Weight | 9 lb(s). |
| Origin | United States |
| Height | 10.000 |
| Length | 16.000 |
| Width | 10.000 |
| Manufacturer's Warranty | |
| Manufacturer's Warranty Link | |
| Shipping Restrictions | |